Posted: December 9, 2009
Filed under: Sports Offensive, Uncategorized
| Tags: hull, phil brown
Leave a comment »
Following a disastrous start to the season, Hull players have demanded "It's us or the sunbeds".
Manager Phil Brown is under fire for spending more time in the tanning salon than on the training pitch. One player, who has asked to remain anonymous for fear of repercussions has told us: "Every time we want a bit of advice on set plays or tactics, the gaffer is either at Tantasic on the High Street or in his office applying artificial bronzer".
Concern is growing for the Hull gaffer, with some believing Brown has developed a fear of being a white man. "It goes back to a holiday he hafd in Barbados. He came back with a very dark tan.He looked like a Moroccan deckchair seller. Since then he's been desperately trying to keep the tan, to the point where he sleeps under a gro-light".
Already this season we have reported on Brown spending long periods in a greenhouse and there are whispers that the board are unhappy with Brown charging his Fake Bake and St.Tropez purchases to his club credit card. Says the anonymous player: "We've reached breaking point. It's affecting our results."
---
Posted: November 5, 2008
Filed under: Sports Offensive, Uncategorized
| Tags: calibration, hull, stadium, stoke, west brom
Leave a comment »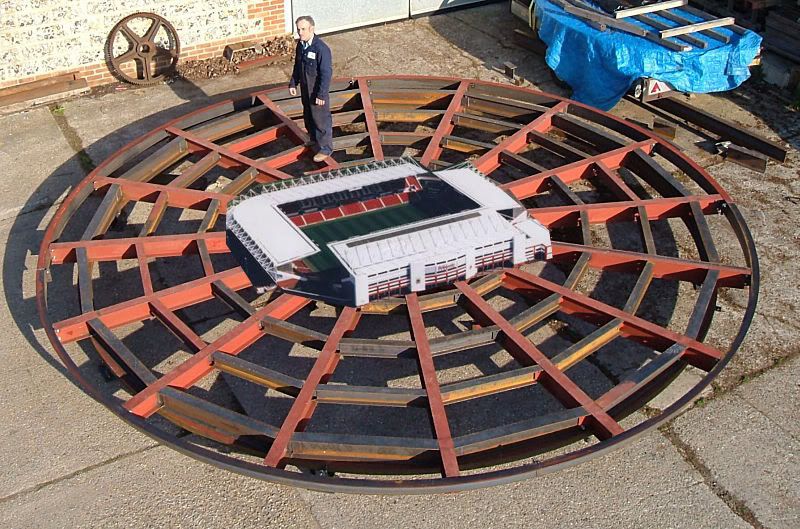 Newly-promoted sides Hull, West Brom and Stoke City faced a race against time to get their grounds up to scratch ahead of the Premier League season, it has been revealed.
All three promoted teams were ordered to rotate their stadia by 359 degrees and fit a huge turntable in order to satisfy 'ground calibration' targets in August. The other 17 teams in the league completed the calibration prior to the 2007-2008 season, but the Tigers, Baggies and Potters had, understandably, not carried out the work.
Read the rest of this entry »
---